Although I scored an A in Food & Nutrition, I can never cook decently.
Even a simple job like toasting bread seems difficult. Let me share with you how the bread I toasted ended up like.....
My
1st attempt
was a total FAIL but I was not defeated at all. If you're lazy to click on the link, check it out here: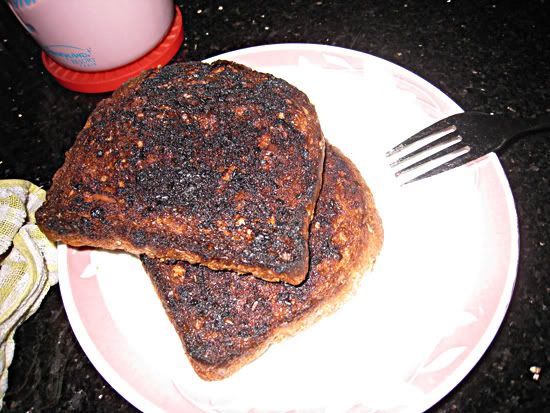 -__________- Can't believe it!!!
2nd attempt
: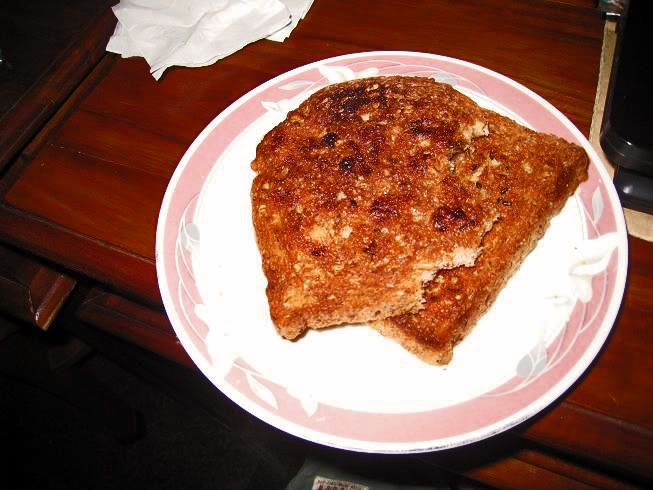 Hmm.. Still quite burnt as you may see, but it was edible and I ate it all up.
Alright.. I'll now share with you my most disastrous cooking experience.....
I've never really come close to the kitchen in my entire life
although I'm a food person and (*repeats the trillionth time*) I eat a lot but kitchen is never the place for me.
I've aplenty of disastrous experiences to share though. Probably 90% of all the times I've cooked ended up in "ruins"-_- The worst has got to be when I was 14, I remembered, in Home Econs class. We were supposed to work in pairs to whip up a spaghetti dish. How tough can that be? All you need to do is to place the spaghetti in the boiling water and ta-da! Add in the sauce and ingredients and there you go, easy as A-B-C spaghetti. I think.. spaghetti is one of the easiest dish to cook besides maggie mee obviously...
Back to the cooking part..... After the water was boiled, we placed the spaghetti into the small pot. As the pot was not wide or high enough for the spaghetti, half of it was in the water while the other half of the spaghetti was left leaning on the pot's wall and sticking out in the air....
I thought nothing of it and diligently went to chop the ingredients for the sauce while waiting for the spaghetti to soften and eventually immerse in the boiling water.
Moments later
, my partner shrieked a little and as I turned, I saw that...
that.......
.........................
....................................
......................................................
omg
......................................
..............................
.........
...
.
THE SPAGHETTI WAS ON FIRE
!!!!!!!!!!!!!!!!!!!!!!
Okay, it really was. Not joking. Basic instinct was to put off the fire with water.
We quickly filled a cup with water and poured it over the burning spaghetti
with the gas/fire still on
. Total FAIL. So I hurriedly off the gas cooker and let the water rest before I realized we were in the center of attraction. Every student in the class was looking at us... some controlling their urge to laugh out loud.. others stared in shock.
Did I mention that our teacher went berserk? We got the worst, fiercest, most fearsome lecture from her ever. Besides that, we were told that we should break the spaghetti into two to fit into the pot instead.
Aftermath: Everyone in class knew about it even though only half attended the lesson. It was like..
instant fame
. We became "the talk of the class". For the wrong reason.
Just wondering.. isn't spaghetti supposed to be in full length instead of breaking into half??? :S
Anyway... Lesson definitely learnt!!!!!!!!!!! I want to be a good cook but I'm so lazy. For the sake of my beloved I shall start working on my culinary skills!
***
Did I mention I wanted to give bf a surprise? So imaginative me decided to cut cheese, strawberries and mangoes and stick them in toothpicks like... a specialty rojak. Not literally rojak but still.. I didn't even try how it tasted like which I totally regretted. Here's how I did it: I towered slices of heart-shaped cheese, strawberries and mangoes with a toothpick to bind them together. Then, I placed them in an awfully cute lunchbox. When I got bf to try, he forcefully ate them to not hurt my feelings. I could still remember the disgusted face he let slip off even when he tried really hard to control. I thought he was exaggerating so I decided to try them myself.
And...
............................................
..............
w-t-f.
They really tasted bad. Kind of embarrassing :'( but lesson learnt! Never eat cheese with fruits together.
So much for the surprise. More like a shock.
***
Speaking of which..
Julie and Julia
sounds like fun. It's very much about cook and food. After watching the movie trailer, I'm enticed to catch the movie. I should yea? Hopefully I'll get all the motivation I need to get my ass in the kitchen after watching it!!